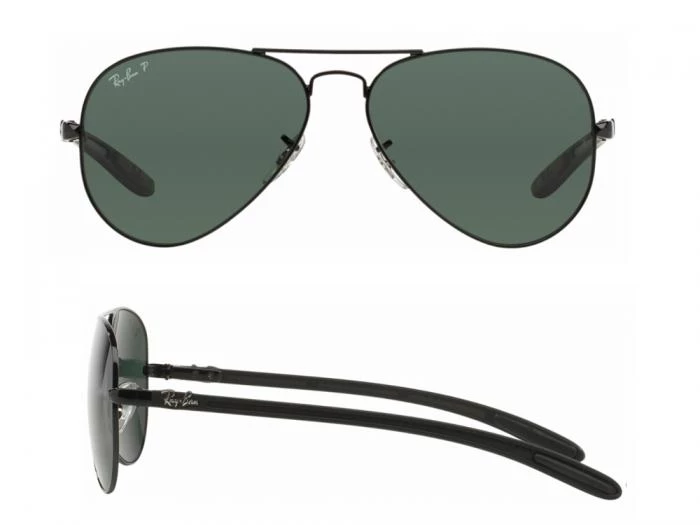 Ray-Ban RB8307 Carbon Fibre Aviator Review
As if Ray-Ban Aviator sunglasses weren't light enough already, the RB8307 Aviators are yet another riff on one of the most popular eyewear styles of all time.
The frame is a carbon fibre composite that increases strength, adds flexibility and reduces the weight the more familiar RB3025 classics.
Arms are made from a carbon fibre resin composite with thin fibres woven in a crystalline pattern to create a very durable product
The pros of carbon fiber eyewear are the very light weight, the durable and strong material and the built-in flexibility which helps them fit almost any head shape without loss of comfort.
On the downside, carbon fibre glasses are a lot more expensive and more difficult to find as only a few models are manufactured in this material.
RB8307 Aviators come with the classic teardrop lens and full thin fibre rim with the iconic double bridge and a straight top bar.
Adjustable acetate nose pads complete the front-on Aviator look that's pretty much identical to the original style.
The main difference between these and classic Ray-Ban aviators lie in the temples and arms with the RB8307s having thicker, flatter arms and a prominent raised Ray-Ban logo on the temple.
A patterned channel runs the lend of the arms which, unlike the traditional Aviators, are not straight but bow slightly in a shallow downward curve that rests on top of, rather than curling behind, the ears.
This is a high-tech materials update of the traditional popular Aviator style which a layer of luxury to the iconic style but they come with a hefty price tag.