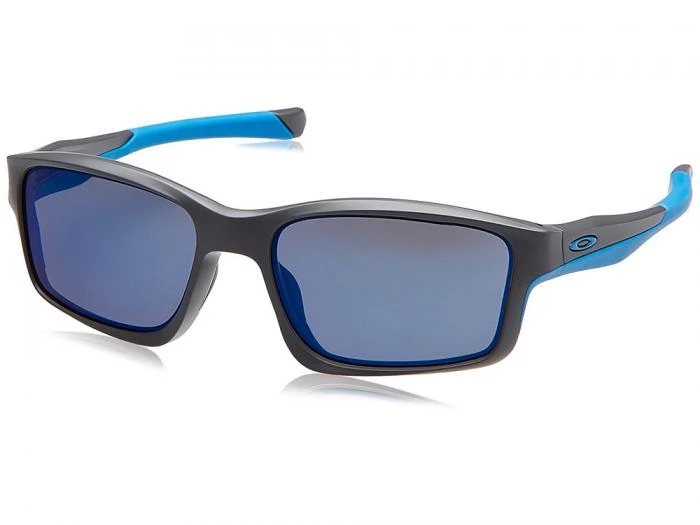 Oakley Chainlink Glasses Overview
Oakley Chainlink sunglasses are for those who enjoy an active life but want shades to look smart both on and off the sports field.
The design is inspired by the popular Crosslink frame and, to be honest, there is not a lot between the two in style terms.
The squarish, single-bridge, full-rim frame is wide and slightly flatter than many Oakley models with a Base 6 wrap, so they suit most face shapes, although they do look their best on medium to large faces.
The bottom edge of the frame narrows toward the outer edges to give Chainlinks a flyaway look while the brows stay think and solid across a wide flat bridge.
The two-tone arms and prominent Oakley icons may be a little flashy for some but Oakley sunglasses are rarely understated although colour choice is important for some in matching the eyewear to their character.
The sculpted arms have stylish 'bumps' to the slim outline that enhance the 'racy' appearance with a notched black tip at the ends that acts as a counterweight to the swept-back style.
Manufactured from O-Matter, a nylon infused plastic, Oakley Chainlink sunglasses are extremely flexible, lightweight and durable. This makes them an excellent choice for lighter sportswear, say some tennis, golf or even cycling.
Some cyclists say they prefer Chainlinks to the more targeted performance eyewear models such as Jawbreaker and Radar, especially for trail biking. The semi-wrap style gives plenty of eye protection and avoids the need to pack glasses for riding and for casual wear.
Unobtanium ear socks and nose pads help ensure a good fit when playing sports as the patented material becomes tackier with perspiration.
Oakley Chainlinks are available in a wide variety of colours and lens types, including polarised and iridium coated. They look even cooler with mirror lenses, available in certain colours but not all.
All lenses come with a Plutonite label to guarantee 100% UV light protection and patented High Definition Optics, which provides superior optical clarity and razor-sharp vision from every angle.
Chainlinks are aimed at the male market but they work well for independent, statement minded women too. You can wear Chainlinks all day; they are super comfortable and lightweight, nicely bridging the gap between sports and casual, sporty functionality with a sleek, casual streetwise style.