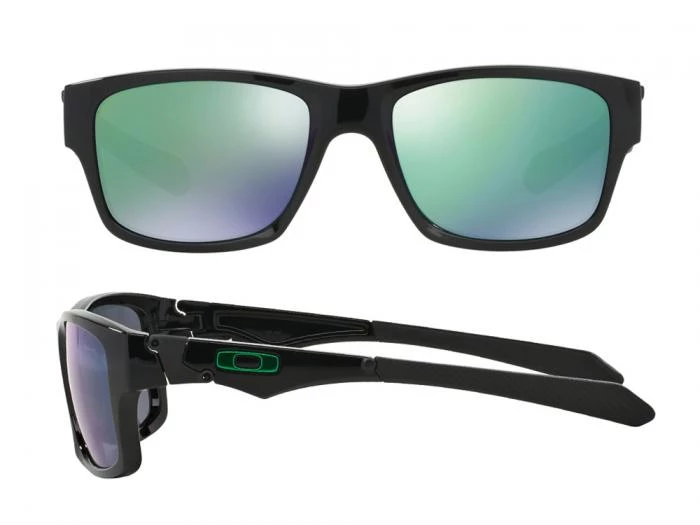 Oakley Jupiter Glasses Overview
Oakley Jupiter sunglasses give some added street spin to the stable of styles derived from the now legendary Wayfarer.
The iconic rectangular Wayfarer frame with the signature flyaway corners gets pumped with some street attitude in these Oakley spin-offs.
The first thing of note is in the sweeping arms moulded with an edgy style inspired by the handles of switchblade knives.
Sculpted integrated hinges and a whole bunch of patented high-tech specifics bring these retro sunglasses bang up to date.
Part of Oakley's Lifestyle range, these shades are aimed at the casual market who don't need the advanced technology demanded by sports professionals but who still want sunglasses offer a performance edge as well as
look good on the street.
Lightweight frames combine tough impact-resistant durability with flexibility and all-day comfort so these are trouble-free sunglasses you can wear all day.
The Oakley the three-point-fit does away with hooks over the ears while making sure they stay put even when shaken and stirred and the patented ear socks ensure Jupiters stay in place even in sweaty conditions.
Plutonite lenses give 100% eye protection against harmful UV light while Oakley's patented High Definition Optics ensure clarity of vision from all angles.
With additional lens options of Iridium coating and polaroid technology, there is the opportunity to increase the sharpness of vision, reduce glare and balance the light transmission from all directions.
But it's the design flare that sets these Oakleys apart and has helped make Jupiters one of the best-selling Wayfarer-style sunglasses.
The chiselled metal accents at the temples and the switchblade arms give a striking new street-cool touch to an iconic design that has withstood the test of time.
Many thought there was no way to improve on the original Wayfarer look but Oakley has proved them wrong now with several innovative additions to the range.
With Jupiter sunglasses, it looks like Oakley has made the original Wayfarer shape all its own and ushered in a new dimension in sunglasses design.