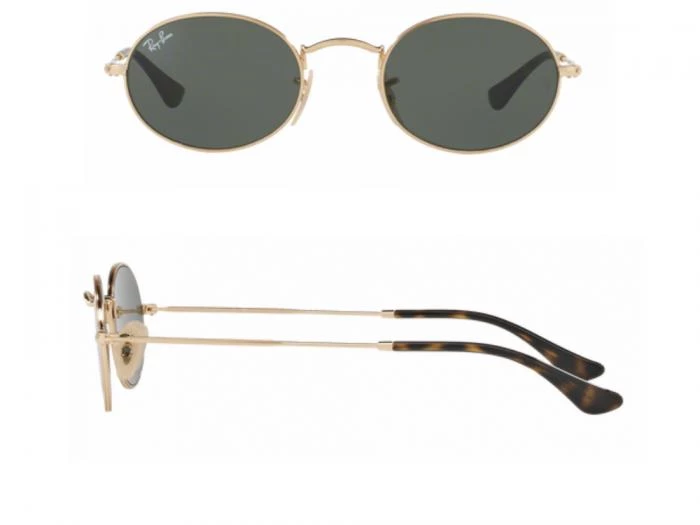 Ray Ban RB3547 Oval Flat Sunglasses review
RayBan RB3547 oval sunglasses are yet another riff on the 1960s counterculture style first promoted by musicians and movie stars and was briefly revisited in the 1990s in movies such as 'The Matrix'.
Ting oval flat sunglasses are back on trend and what they lose in the way of eye protection they make up for in street cool style.
The thin frame makes for a very lightweight and comfortable to wear pair of shades.
Adjustable acetate node pads add to the comfort fit and it's hard to feel you are even wearing these glasses.
The RB3547 frame is a thin metal full rim with single raised arch bridge and straight arms that emphasise the lenses, available in crystal glass with standard and flash mirror coatings.
The lenses are an old-school base 2.5 curve which means they are pretty much flat so your eyes get no protection from UV rays from above or the sides.
That said the lenses give full guaranteed 400n UV protection from the front.
The temples are tiny with a small barrel hinge and straight metal arms that end in a stub just before the ear where they get an acetate ear sock for extra comfort and grip.
The thin metal frames emphasise the oval flat lenses which come with a super hi-shine and a multi-layered treatment that helps reduce the shiny metal glare.
The RB3547N flat ovals sunglasses are available in classic coloured ear socks as well as bold flash mirror lenses, all paired with gold frames.
These Ray-Ban RB3547N Oval Flat sunglasses are great for any occasion where you need to pack a fashion-forward style punch and they are great for an urban or beach setting but beware the exposure from the sides and top.
These Ray-Ban RB3547 sunglasses are retro unisex style and favoured those who already to ditch their oversized aviators for the new tiny specs look.