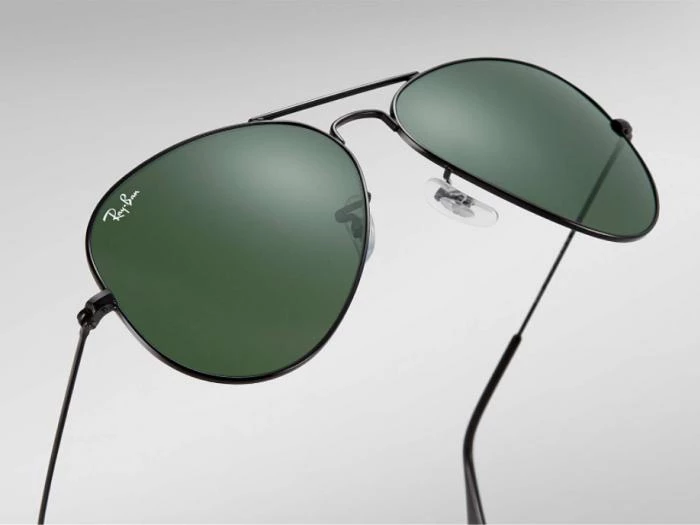 Ray-Ban Aviator Glasses Overview
So classic they hurt -- what more is there to be said about Ray-Ban Aviator sunglasses? An instant classic since they were manufactured for US pilots way back in 1939, Aviators have not only stood the test of time, they have monopolised the top spot in sunglasses design despite the vagaries of the fashion world down the decades.
Much emulated by other manufacturers, the original Aviator style has been going strong and shows little sign of faltering. The thin metal frame and inverted teardrop lenses have become a de-facto standard for metal-frame sunglasses design.
The teardrop lenses were a perfect sun-block for pilots' eyes and quickly became a luxury accessory for sportsmen on hunting and fishing expeditions.
But it was when US General Douglass MacArthur donned a pair for a photo shoot in the Philippines that they became an instant hit with the public.
Their popularity mushroomed when movie celebrities of the 1950s and 1960s like Marlon Brando started wearing them.
Multiple variations followed with manufacturers launching aviators for women and with many lens coating options.
Since then they have become one of the most emulated sunglass styles with virtually all manufacturers bringing out an aviator style model. They are now a staple of popular culture and fashion.
This large, lightweight design appeals no matter what the current fashion trend although concessions are often made to the classic design. Modern aviators have become more slender and pared back, especially with the introduction of lightweight metals like carbon and titanium.
Aviators do need some care in use, however. The light frames can bend or break, and hair can get caught in the nose pads if the sunglasses are pushed back to perch on the top of the head.
With upwards of 40 variations to choose from Ray-Ban has something for everyone with scores of frame and lens colour options.
Latest to hit trend are large flash mirror lenses in the biggest of the three available sizes.
Some are concerned that Aviators can overwhelm the 'small face' but the smaller size lens looks OK, and there are few people that don't look great in Aviators. It's a style that suits just about everybody.