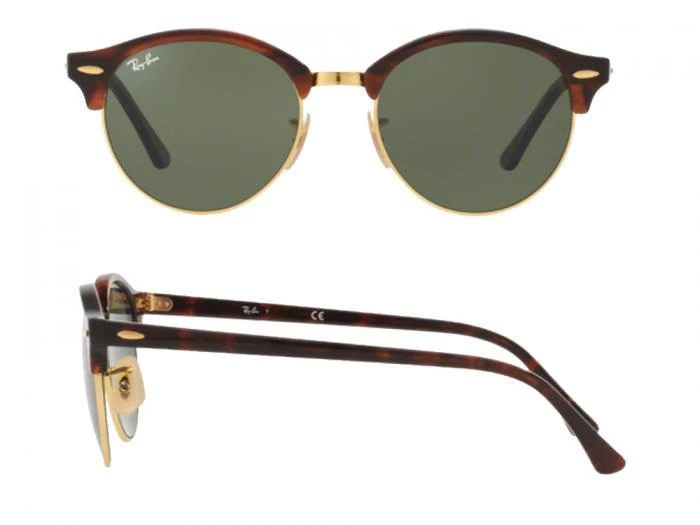 Ray-Ban Clubround Sunglasses Overview
Ray-Ban's Clubround sunglasses are inspired by the original Clubmaster frame but feature round lenses. The upper frame of acetate is complemented by metal lower lens holders and prominent metal bridge band that results in a hybrid Clubmaster Gatsby look.
If you are a fan of Clubmasters but go for the latest round glasses trend then these could fit the bill. The design focusses on the rounded glasses look but with Clubmaster-inspired acetate brows with metal lens rim and bridge.
The mix of acetate and metal is perfectly balanced to create a sleek contrast in materials. Iconic Clubmaster-style metal accents adorn the temples, both sideways on the arm and on the front of the frame.
As well as the traditional Ray-Ban logo on the right side lens there is an RB etched into the bevelled lens holder. Also etched into the back on the bridge are the lens and bridge sizes.
The Ray-Ban Clubround RB4246 also features barrelled metal hinges and transparent ivory nose bombs. They look stylish but eye protection is not great with flat lenses letting in light to the side of the eyes.
Nevertheless, it's a very stylish unisex combination of two very successful trends and Clubrounds come with a wide range of colours and lens options.
These could become new classics, having successfully adapted the original Clubmaster to cool round lenses.
Such hybrids don't always make the grade but these have enough retro-chic aura to make an independent mark a fashion world that thrives on nostalgia.