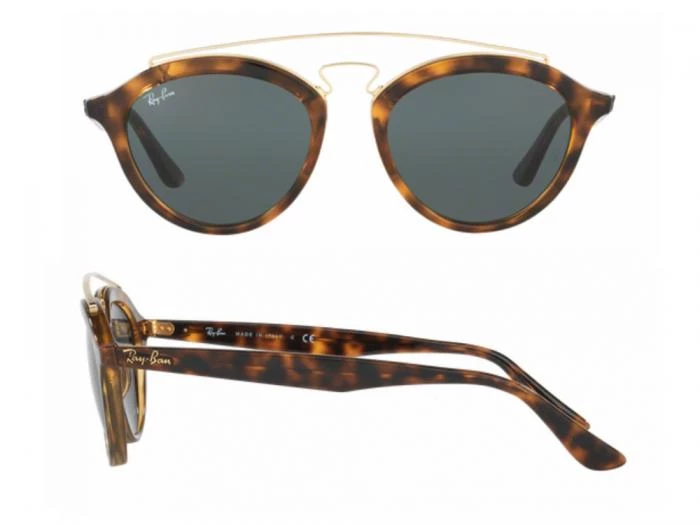 Ray-Ban Gatsby Glasses Overview
Ray-Ban Gatsby RB4256 and RB4257 sunglasses bring the Roaring 20s full swing into the modern era.
Gatsby's are a stylish blend of the old and new with an ultra-modern take on an old classic look.
These unisex sunglasses have a large near-round full-rim frame with deep fly-away temples for that exude a steampunk retro ambience.
Lens sizes run to 46, 47 and 49mm on most models and lens options include mirror, gradient and polarised.
The base2 lens is nearly flat so there is an opportunity for light leakage from the sides and top,
The most eye-catching feature of Ray-Ban Gatsby sunglasses is the elaborate double bridge, usually of gold coloured metal although it can vary with some models.
The lower bridge in flat metal curves sharply in curtain hook style while the upper brow bar is a long shallow arched curve that sits on top of the lens rim.
Raised embossed logos sit prominently on both temples and the flexible arrowhead arms are tipped with deeply curved acetate ear socks.
Plastic nose extensions ensure a comfortable fit as does the lightweight nylon infused frame.
The Gatsby II range is inspired by the original Ray-Ban Gatsby but aimed more squarely at the female market with a more feminine Phantos lens frame.