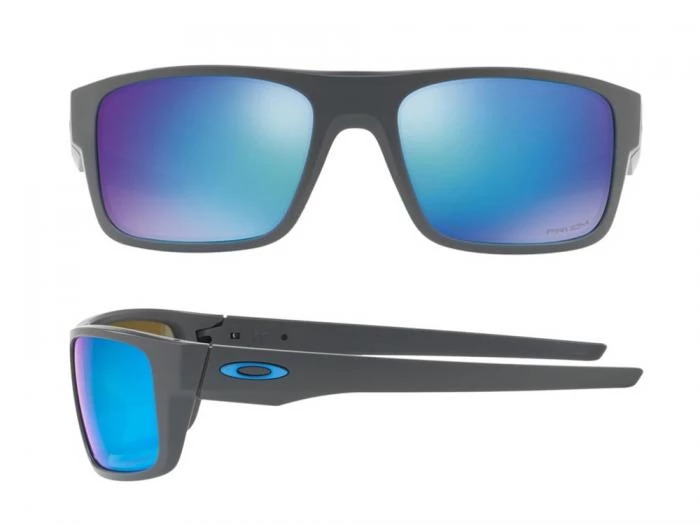 Oakley Drop Point Glasses Overview
Another welcome addition to the Oakley Lifestyle range, Oakley Drop Point sunglasses are aimed squarely at the male market with a sleek, lightweight full-rim sporty frame and an 8.75 base wrap.
The lens frame is rectangular with a plain saddle bridge and designed to look best on small to medium faces.
The loose wrap lens frame curvature doesn't hug the face too much yet gives good peripheral vision and plenty of side protection against the sun and the wind.
Drop Point are the frames to go for if you want the sporty look but don't need the added clout of performance eyewear.
Oakley Drop Points look as good on the street as they do in the sports world, for which they were primarily intended, combining a modern loose wrap face curvature with some sculptured overlay of the frame and arms.
Released along with Oakley's Flak Draft, Flak Beta, and Double Edge models these sunglasses resemble both the Gascan and Fuel Cell ranges but with different temples and arms.
Crafted in proprietary Oakley O-Matter, a nylon infused plastic, Drop Point can claim to be both lightweight and robust, both comfortable on the move and tight-fitting to the head, thanks to the three-point fit and patented Unobtanium high grip ear socks.
The wide range of lens options include polarised and Prizm but all Oakley lenses come with Oakley High Definition Optics, a clutch of patented technologies that promote optical clarity right to the edged of the lens and inbuilt Plutonite that promises 100% protection from eye-damaging UV light.
It's the clarity of vision, robust construction and attention to detail that keep Oakley ahead of the field in performance eyewear and these glasses are no exception.
Less flashy than other models, Oakley Drop Point sunglasses have an understated loose wrap style that will appeal to the more sophisticated.