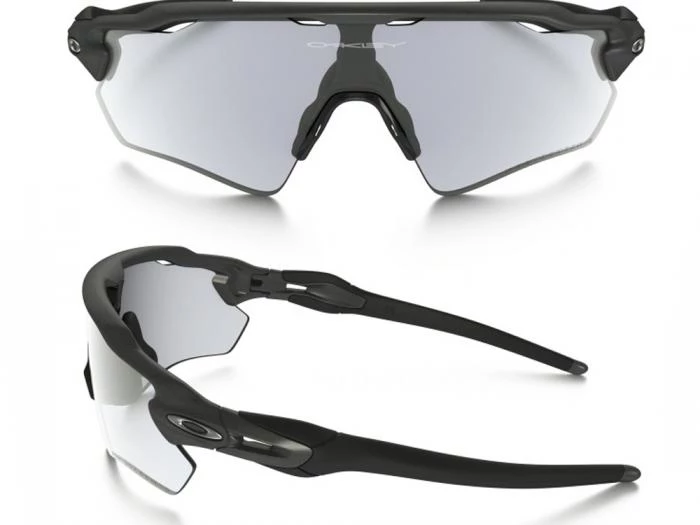 Oakley Radar EV Glasses Overview
Oakley Radar glasses have led the pack for years as the performance eyewear of choice for the modern sports cyclist.
The Radar EV (it's EV for 'Expanded View') was launched alongside the innovative, and more expensive, Jawbreaker sunglasses.
This model is equally innovative and It shares some key features of the Jawbreaker such as raised lens and anti-fogging punched air vents.
Durable and lightweight for a snug fit, the half-rim Radar EV frame has a single lens and curved arms encased in Oakley's patented non-slip Unobtanium ear socks.
Unlike Jawbreakers, the new Radar EV doesn't have adjustable arms so the fitting with bike helmets is a bit hit and miss but most cycle riders, road or trail, don't find this a problem.
The lens is higher than the original radar so top peripheral vision is much improved while the half-rim design ensures the lower vision is clear.
Oakley Radar EVs were launched at the same time as Prizm Lenses, designed to improve visibility in defined sports conditions such as Road and Trail.
The Radar Prizm frame and lens combination certainly makes for a great pairing for the ambitious cyclist.
A bunch of Oakley patented technologies ensures perfect vision in almost all scenarios. Impact-resistant Plutonite protects against harmful UV rays while
High Definition Optics stops light bending before it reaches the eyes and XYZ Optics keeps images un-distorted across the whole lens.
Like its parent Radar classic, Radar EV frames are crafted from super-lightweight O-Matter which combines strength with flexibility and ensures all-day comfort in any conditions.