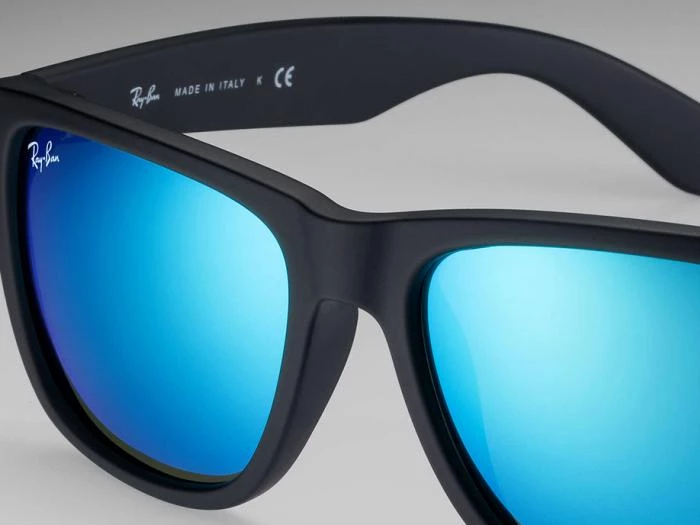 Ray-Ban Justin Glasses Overview
A top selling product only a few years ago, Ray-Ban Justin sunglasses are back on the market.
There are big echoes of the Wayfarer here with large soft-edged rectangular lenses and heavy set square frames.
But what sets the Justins apart are the slightly softer feel and a matte rubber finish that adds a bold, edgy look to this traditional style.
The sales success of Wayfarer sunglasses almost forced Ray-Ban to bring out new products that would catch the high tide.
Justin has been one of the best of all of them, a Wayfarer spin-off that is more than just a copy, a style unique enough to hold its own.
The key difference is the size and although both models are similar in the strong design features there are enough slight variations set them well apart.
The Ray Ban Justin has a more modern contemporary feel and although they are aimed at the male market they can look great on women too, especially those aiming for a 'bigger look'.
The edges of the Ray-Ban Justin glasses are slightly more rounded than the Wayfarer and flattering for most face shapes, both male and female, but the squared off Justins will probably look best on oval and round faces.
The acetate frames are exceptionally light and comfortable to wear, and the rubberised finish increases grip in warm weather.
The clean bridge keeps Justins more vertically aligned to the face that the Wayfarer, which tips forward a tad more on the nose.
Frame and lens colours are varied so you can match contrasting hues.
Definitely in the Wayfarer stable, Ray-Ban Justins have a standout temple curve and wide, arc arms that nevertheless, with the rubber finish, give them a distinctive look. Lenses come with 100% UV protection in two size options.
The Wayfarer excels with the classic feel and simple old school flare while Justins add a sleeker, slightly perkier look plus some contemporary chic.
Justins give a fun edge to the classic Wayfarer look and will probably appeal most to the young buyer and are the perfect choice for an alternative take on the traditional Ray-Ban Wayfarer.