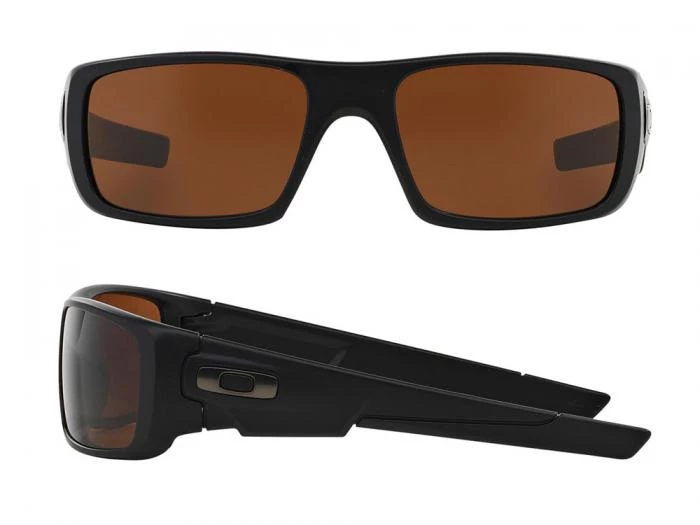 Oakley Crankshaft Glasses Overview
Oakley Crankshaft sunglasses are a hybrid blend of the company's popular Gascan and Fuel Cell models.
Part of the lifestyle range, they add a bolder dimension to what were mainly street-wise shades.
The full-rimmed frame is medium thick with a prominent bridge. The frames have full sculpted temples and prominent Oakley logo with metal icon accents.
Straight out of the box you will see the influence of previous models with the square lens of the Gascan and the rounded bevel of the Fuel Cell.
The arms are straight and long, like the Fuel Cell but with an added deep flange section near the temples where the Oakley icon features very prominently.
The flange curves down to the bottom of the lens frame to give them a bold chunky look. Very much aimed at the younger male market that likes to look cool on the street, the bold look is the best fit for medium to large faces.
Forged in patented nylon-infused plastic O-Matter, they are light but strong with plenty of impact-resistance flexibility to survive rough use.
Oakley's three-point-fit keeps them firmly in place but keeps them comfortable for day-long wear.
Rectangular lenses add punch to the street look, and they are cut from the same single toric shield to ensure perfect matching.
Full UV protection against harmful blue-spectrum light up to 400 nm is built into the patented Plutonite lenses while XYZ Optics eliminates visual distortion from any angle.
The lifestyle look of Oakley Crankshaft sunglasses is aimed at the young, male urban looking for a street-cool look. Bold bevelled temples and prominent Oakley icons make these a fashion statement for the young.