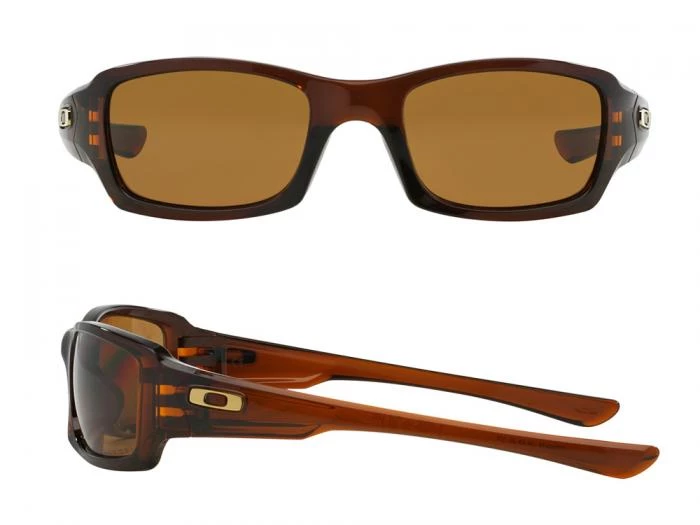 Oakley Fives Squared Glasses Overview
Designed for the smaller face, Oakley's Five Squared sunglasses have a tight fitting wrap around frame intended to hug the head.
Oakley calls the frame architecture 'Condensed Cranial Geometry', but others might prefer the term 'snug fit'.
Intended as an update to its Fives' stable Oakley Fives Squared are pretty much the same frames as the Fives 3.0 but with a flatter squared icon on the temples and a stamp inside arm of (4+1)2, the mathematical five squared.
The model was updated with better nose pads following complaints from sports users that the frame could slip down the nose when wet.
The frames' tapered design clings a little more closely to the face a face-tight look that is enhanced by the sculptured integrated hinges.
The full-rimmed frame has an 8.75 base lens curvature that enhances the sleek, wrapped look as well as increasing peripheral vision.
Deep dimensional reliefs, double metal icons at the thick temples and integrated hinges give these sunglasses a street-smooth sporty style.
Oakley's durable O-Matter frame material feels light on the face and the patented three-point-fit keeps things firmly in place.
Squared lenses feature the company's own impact-resistant Plutonite, with built-in 100% protection from damaging UV radiation and patented XYZ Optics to keep the visual field sharp and crisp no matter what the angle of view.
Lenses can also include Iridium coating to balance light transmission or polarised lenses that cut 99% of glare without haze or distortion.
Oakley Fives Squared sunglasses offer a sleek, sophisticated look with a hint of action sport that is an ideal fit for the small to medium sized face.
Embossed reliefs on the temples and prominent metal icons add a street-smooth varnish for the sports enthusiast who likes to display some attitude.