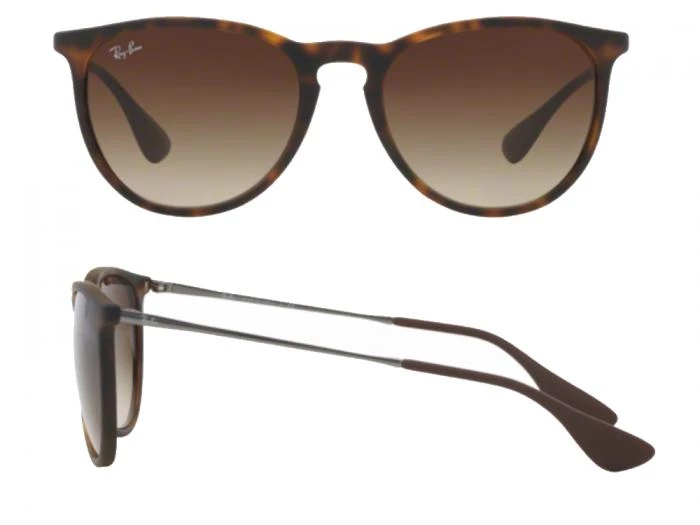 Ray-Ban Erika Glasses Overview
ay-Ban Erika sunglasses may be a retro vintage in style, but they have a contemporary roll that shows no sign of slowing down.
Similar to the classic Clubmaster, these shades take retro to a new level with a time-honoured shape, and character keyhole bridge combined with up-to-date technology and an array of modern, bright colours.
The flattering rubberised oval frame is an unashamed throwback to Hollywood glamour, but innovative components and bright colours make them perfect for the modern wardrobe.
Erikas are a style statement that sets the wearer apart from the crowd where the on-trend oversized round lenses, sweeping acetate frame, tapered temples and sleek metal arms create instant impact.
The style may echo the Wayfarer, but Erikas are much less chunky. The frame may be large, but it is much more graceful. The thin arms too can lend a wistful addition to the oversized lenses.
Although aimed at the female market, Erikas have found a niche following among men. Males with round faces have trouble finding sunglasses aimed at the men's market that look stylish and flattering.
Erikas, however, look light on the face, and men shouldn't be thrown by the female marketing thrust.
Despite the lightweight feel, Erika owners report feeling comfortable and secure in these shades.
The lack of nose bombs meets with general approval. Not only does it enhance the sleek look but it means the glasses don't get tangled in the hair when they are perched back on top of the head.
The colour range is impressive, so you can pick something flashy for the summer beach or subtle for casual evening wear.
Lightweight lenses give 100% UV protection and come with a range of options, from polarised to gradient and even a mirror coating if you like to look flashy.
Despite its Wayfarer roots, Erika sunglasses have a hint of Aviators giving us a hybrid take on two classic styles.
It's a neat trick if you can carry it off and Erikas so just that. Bold but classy they can be paired with anything from casual beachwear to nighttime partying.
Ray-Ban Erika sunglasses are a perfect choice for those looking out for a vintage style statement but with a modern twist.