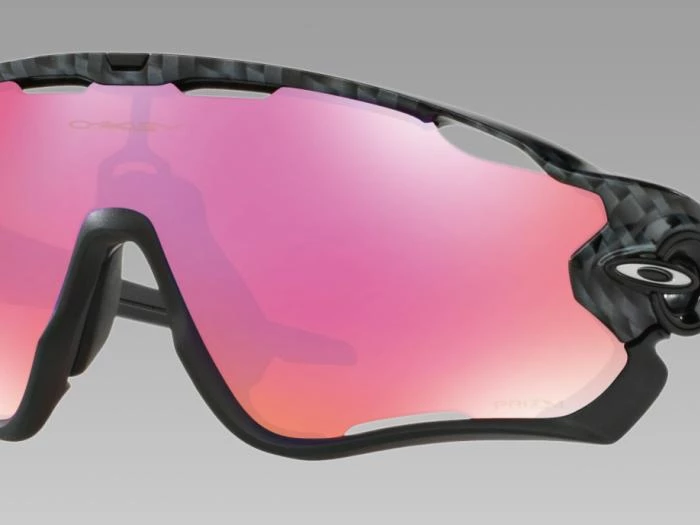 Oakley Jawbreaker Glasses Overview
Designed in collaboration with world-classBritish cyclist Mark Cavendish the Oakley Jawbreaker is one of the most distinctive of Oakley eyewear products for sports enthusiasts.
These performance sunglasses, aimed predominantly at the sports cyclist, come in a myriad range of colour schemes and lens options.
The wide, half-rim one-piece lens offers an uninhibited view of the road ahead while the a patented 'Switchlock' mechanism allows the rider to switch lenses very easily and securely.
Oakley claims that the huge lens covers 44% more visible area that ordinary sunglasses and it certainly affords as much eye protection as any rider would need.
The Iridium lens coating keeps vision crystal clear through rain, sweat and grime while Oakley's Prizm lens option fine-tune vision specifically to the environment, emphasising the colour detail where it counts which, in this case, is on the open road.
The innovative hinge mechanism splits the glasses apart at the nose piece and makes switching lenses a breeze, although the operation can be unnerving the first time you do it but you soon get used to it.
UV protection is provided by the Plutonite lens material that filters out 100% of UV and harmful light rays up to 400 nm and the frame also incorporates an impact-resistant shield.
Multiple vents are built into the frame to improve ventilation and avoid fogging. Cyclists report first class performance in this area even when working hard in difficult conditions.
Another innovation is the adjustable arm lengths that help keep glasses tight for any type of head shape, bike helmet or helmet strap.
The ultra-modern look and massive lens of the Jawbreaker are not to all tastes but Oakley has produced cycling glasses that set new standards in sporting eyewear.
Two years of development and 9,600 hours of testing, according to Oakley, have paid off with some ground breaking performance eyewear.
These sunglasses are purpose built for the cyclist though so those that son'r ride are unlikely to see the appeal. Brilliant for road racing they can look bizarre out of the saddle.