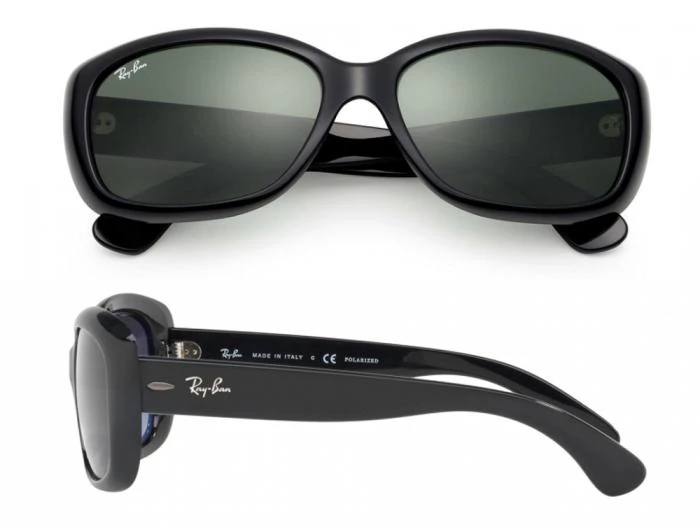 Ray-Ban Jackie Ohh Glasses Overview
An instant classic on their launch, Ray-Ban Jackie Ohh sunglasses are a must for women who like to mix style with glamour.
Crafted in acetate and polycarbonate, the full-rim frames are named after Jackie Onassis, an icon of fashion in the 1960s.
The former US First Lady made her oversizes bug-eyed shades iconic. They were not only just perfect for blanking out the paparazzi they made her look like the coolest women on the planet, and she wore them just about every time she appeared in public.
Her contribution to pop culture and style in immeasurable and Ray-Ban have kept the glamour alive to this day.
The thick black and tortoiseshell frames quickly became part of every stylish woman's summer wardrobe no matter what the face shape.
Jackie Ohh's oversized oval lenses are linked by a deep V-shape bridge that blends chic with bold, a difficult partnership but one that looks stunning in these iconic shades. The flyaway temples soften the strong oval front.
A wide choice of frame colours and lenses ensure that there will be a frame to fit any wardrobe and these Italian-made frames are not only built for chic style but also for all-day comfort and durability.
Lenses have a scratch-resistant coating and come with 100% protection from harmful UV rays.
Classic Jackie Ohh frames look best on the square-shaped face, similar to the inspiration for the style.
The oval lenses help counteract the angular lines, and the addition of gradient lenses can also help soften the face.
But Jackie Ohh's can look great on oval shaped faces too. The outsize frames and large lenses not only offer excellent eye coverage against harmful UV light they add heaps of mysterious appeal.
Jackie Ohh sunglasses interlace modern elegance with 60s throwback glamour in a style that has outlived competitors and become a firm favourite of the modern self-assured woman who wants to stand out from the crowd for season after season.