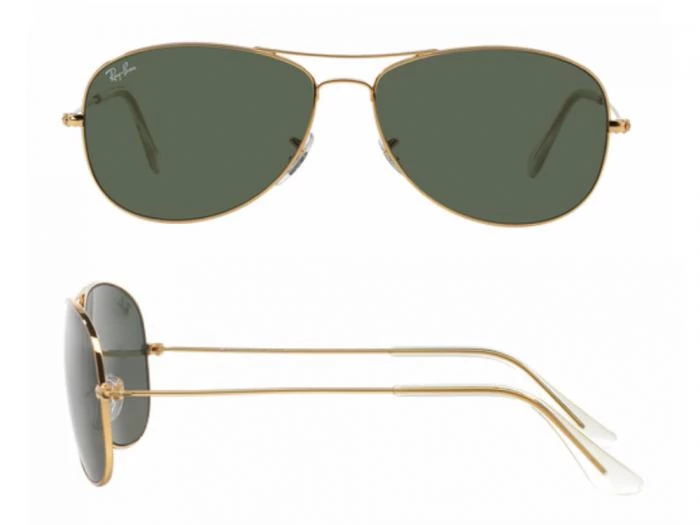 Ray-Ban Cockpit Glasses Overview
Super similar to the classic Aviator, Ray-Ban's Cockpit RB3362 sunglasses are designed for the unisex market with a softer teardrop shape lens.
Ray-Ban Cockpit sunglasses come in a range of frame colour options and an updated lens colours such as mirror blue and cyclamen.
The lens shape and sizes are what marks them out from the classic Aviator with two lens sizes of 56mm and 59mm and polycarbonate or traditional glass lens options for the Cockpit.
Aviators come in three lens sizes, 55, 58 and 62mm.
The classic gold frame and G15 glass lenses reproduce the pilot Aviator look that is a better fit for the smaller face.
The oval modification to the teardrop lens makes for smoother lines and less dominant look that will appeal to women and to those men who find the classic Aviators 3025s a tad overwhelming.
They still boast the full rim thin laser cut metal frames, adjustable nose pads and acetate ear socks and, for these features, both sunglasses are indistinguishable.
However, a marked difference is seen in the 14mm double metal nose bridge. The top bar is perfectly straight in the classic Aviator but has a slight downward bow curve in the Cockpit.
The Ray-Ban Cockpit RB3363 sunglasses are a fine alternative to those who find the classic Aviators a little too heavy and dominating on the face.
Ray-Ban's marketing blurb tells how the RB3362 Cockpit sunglasses take everything iconic about the original Aviator to a contemporary place.
They say the Cockpit is smaller with less dominant lenses which compliments (sic) most face shapes as it shows its own sense of style.
For some, the new lens shape loses the teardrop look and this makes Cockpits more anonymous than traditional Aviators.