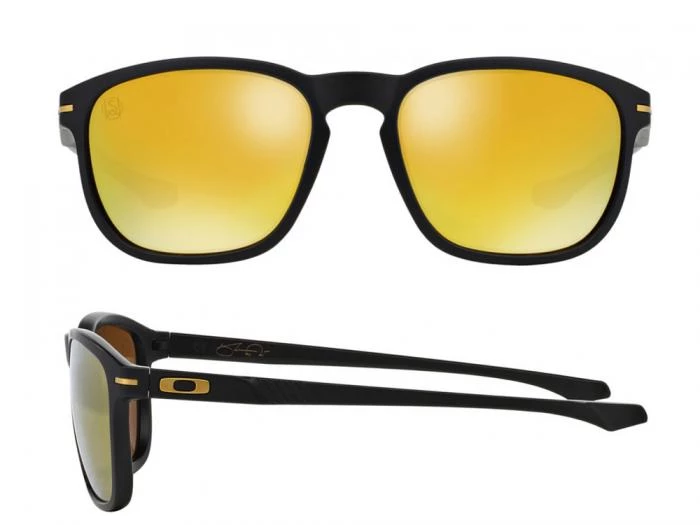 Oakley Enduro Glasses Overview
More Clark Kent than Superman, Oakley Enduro sunglasses come in a style inspired by the 1960s but with a contemporary edge.
Designed with input and collaboration from US snowboarding star Shaun White, the medium-thick, full-rimmed, smooth rounded frame have classical roots but the outlook is definitely contemporary with a wrap around 6-base curvature to add a nice street-cool edge.
Metal accents feature at the wide temples, a prominent Oakley icon, and the ridged slanted grooves on the arms add more modern appeal to the core retro style.
Enduro sunglasses are part of the Oakley Lifestyle range and have a refined, classy look with bold rounded lenses and an indented arch bevel in the keyhole bridge that echoes the clean flowing curves of the frame in general.
Now one of the most popular sunglasses in the Oakley lifestyle range, Enduros have stood the test of time and emerged as a modern classic and evidence of how the understated and end up making the most impact.
Oakley's patented nylon infused O-Matter material makes for a lightweight, durable and comfortable fit while Plutonite shatter-proof lenses combine clarity with strength and guarantee 100% filtering of harmful UV radiation.
Oakley's High Definition Optics in the lens manufacturing promises crystal clarity from any angle while Iridium coatings and polarised lens options open up even more viewing delights.
Enduros will look good on medium to large faces but they will make an impact on almost anyone.
Oakley Enduro sunglasses may have a vintage look but it is one that faces forward rather than back, taking the best of the old and incorporating the best of the new.