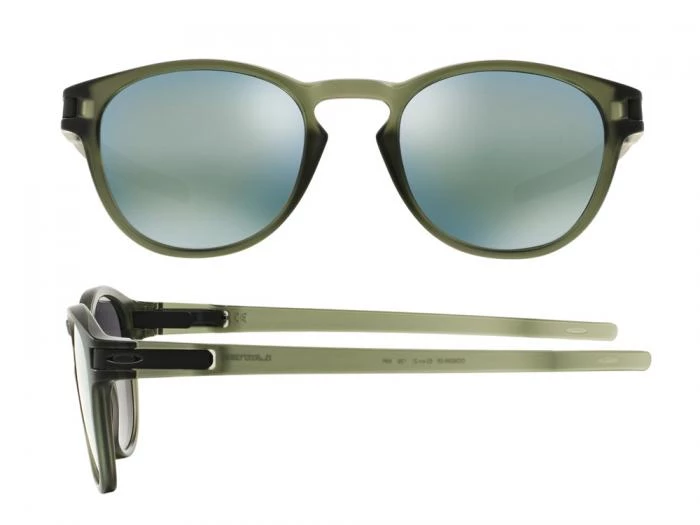 Oakley Latch Glasses Overview
Oakley Latch sunglasses sport a built-in clip that allows the wearer to 'latch' it to shirt or other clothing when they are not being worn.
The latch is a tiny metal hook built in behind the frame. It's a neat idea, but there is a lot more to these sunglasses than having somewhere to hang them while you are not wearing them.
The round lens frames are unusual in glasses aimed at sports performance market but they bring some much-needed style to the sportswear world with design collaboration by some of the top US skateboarders.
Oakley has taken to 'inviting' sports stars to provide input into its sports lifestyle glasses and here U.S. skate legend Eric Koston, photographer Atiba Jefferson, and rising skate stars Sean Malto and Curren Caples helped with the design.
It's not surprising that they opted for round lenses given the current fashion for retro-Frogskins but a shade edgy for Oakley who don't have many round lens frames in the stable.
A classic keyhole bridge and thick temples give Oakley Latch glasses a more sophisticated air and a retro steampunk look that will broaden its appeal beyond the skateboard crowd.
The eyewear comes with all the usual Oakley tech, O-Matter stress-resistant frame, the three-point-fit that keeps them snug to the head without ear hooks and 100% UV light protection built into the Plutonite lenses, rather than applied as a coating.
A wide range of lens options adds to the mix. The classic latch glasses have round lenses while the Latch Square have slightly more of a box shape.
Latch sunglasses have the classic Oakley aura despite the rounded shape, and the latch feature is a neat, simple but innovative and useful shirt clip add-on that can easily be adapted to other Oakley designs should it turn out a winner.