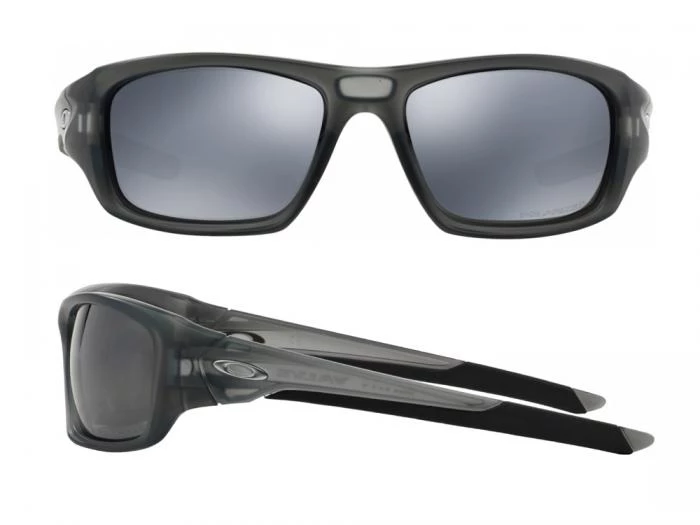 Oakley Valve Sunglasses Overview
A leading member of the Lifestyle range, Oakley Valve sunglasses blend sports and leisurewear.
Oakley Valve sunglasses offer a face-hugging wraparound frame that delivers rugged sports durability and all-day comfort for the casual wearer.
The high curvature frame is moulded in patented O-Matter nylon infused plastic or carbon fibre, both ultra light but with high strength to weight ratios.
Weares reports both materials so lightweight you probably won't even know that you are wearing them and, with Oakley's patented Three-Point-Fit, they hug the face and not move around even when playing active sports.
The distinctive frame of Oakley Valve sunglasses has a two-tone layer that extends the whole length of the arm.
The inner layer is composed of Oakley's proprietary Unobtanium, a rubber based material than ensures the glasses stay in place even on the sports field as they increase grip with perspiration.
It's a heavy rounded frame with a prominent bridge and slightly bulbous temples, so if it's an aggressive, sporty look is what you are after then these certainly fir the bill.
Valves come with Plutonite lenses to eliminate harmful blue spectrum UV rays and with High Definition Optics, a clutch of technologies that promises clear and sharp images from any angle.
These sunglasses also have a wide variety of advanced options that include a light balancing Iridium coating or
glare-reducing HD polarised lenses.
Oakley Valve sunglasses are for cutting a cool figure on the street or on the sports field.
The clean wraparound lines get some added zip from the two-tone arms and this is fundamentally a lifestyle frame that offers the performance normally expected of sport-specific sunglasses.
The curved frame means they look best on large faces but Oakley Valve sunglasses pretty much enhance all shapes and sizes.