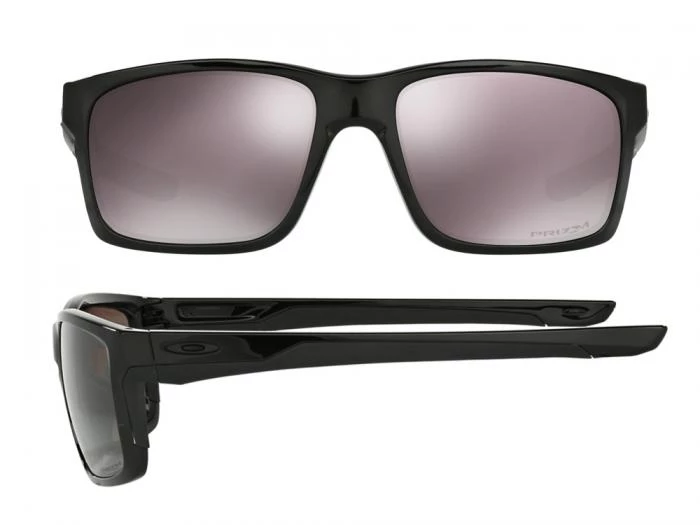 Oakley Mainlink Glasses Overview
Mainlink frames are one of the flagship models in the popular Oakley Link unisex series. The main themes here is keeping it simple and let the style speak for itself.
The style comes straight from the classic Crosslink model with sculptural bevelling and solid appearance that promotes its active lifestyle provenance.
Mainlinks offer a clean, unembellished frame with performance lenses to make this an excellent choice for sportswear or street casual.
Prominent bevels around the hinge and a wide solid bridge add a statesmanlike feel to the stylish full rectangular frame.
These shades come with all the usual Oakley precision made materials like O-Matter for the frames and arms, Unobtanium for the nose bombs and ear socks and the patented Three-Point-Fit to keep them in the perfect place.
Lenses of Plutonite ensure all harmful UV are filtered, and High Definition Optics makes for razor-sharp clarity of vision across the whole lens.
A 6-base curvature gives extra eye protection without resorting to a wraparound frame and extras can include the latest Prizm lens options and polarised versions too.
The Oakley Mainlink is a versatile frame built to meet the demands of active lifestyles and a perfect pair of sports performance sunglasses that bring a lens of solid style to casual situations too.
Users report them very comfortable to wear with good lines of vision and more tan adequate eye protection despite them not being fill wraparounds.
Oakley Mainlinks apear to be preferred by those with a medium to large wider face but they look good and fit well on most face shapes.
Noteworthy features of Oakley Mainlink sunglasses are the base frame design which, although not fully wraparound, gives good eye protection and a snug fit on the face.
The composite nylon infused plastic used for the frame is exceptionally light yet impressively robust and Oakley's three-point-fit system holds them in place without hooking behind the ears.
The anti-slip grip of the earsocks and nose bombs will appeal to those with an active lifestyle as the more you perspire the better they stay in place while the integrated hinges make them even more robust than usual.
Oakley Mainlink sunglasses may appeal to the sports enthusiast but they look great for casual use too and useful for those who want top-of-the-range glasses both on and off the bike or in and out of the sports arena.