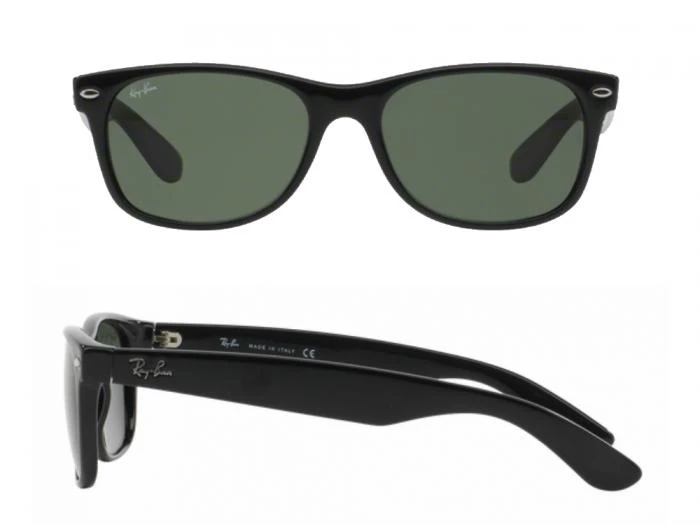 Ray-Ban New Wayfarer Glasses Overview
Wayfarers are back in style with the success of the Ray-Ban New Wayfarer sunglasses – a modern take on a traditional original that adds some bezazz to the old-school classic.
Slightly smaller than the originals, these full-rim New Wayfarer frames have a slightly softer, more rounded line that ensures that will look good on almost all face shapes, male or female.
So much has been said about the original Wayfarer. The big, bold sunglasses helped shape popular culture and featured in many famous films.
Worn by any number of film stars and celebrities, from Bob Dylan to Tom Cruise, from renegade artist Andy Warhol to US President John Kennedy, they have dominated the sunglasses market for decades and even now are in very high demand.
The lenses are not as large in this modern update and the frame is slightly tapered so the glasses don't dominate the face quite as much as before.
More petite features, a more slender frame shape remains the same as the famous classic but is just just looks smoother.
Frames come in a myriad of colours as do the lenses which also have gradient, mirror and polarised options.
The RB2132 New Wayfarer Sunglasses has brought the original style back in a big way and the colour combinations bring options for all ages and personalities.
The original Wayfarers are large and very rounded and although still fairly big these frames are less prominent and the lighter look is complemented by the neatly tapered frames.
The smaller 52mm will fit most women but almost all adults will be more comfortable in the 55mm size.
The lightweight hypoallergenic acetate construction keeps them comfortable all day long.
Some say New Wayfarers don't feel quite as substantial as the older versions and the frame construction is slightly thinner but they are made of robust injection moulded acetate.
In spite soft the classic Wayfarer shape, with overhanging ledge to the temples, there can be no mistaking the New Wayfarer inheritance but the smaller size and nuanced innovations add even more style to the classic original.
The Wayfarer style is still most popular in the eyewear market, not only those made by Ray-Ban but imitated by many other manufacturers.
So, while paying homage to an iconic brand that dominated eyewear style for a whole generation, the Ray-Ban New Wayfarer sunglasses adopt the best of the old and add a cool, trendier, forward-looking dimension.