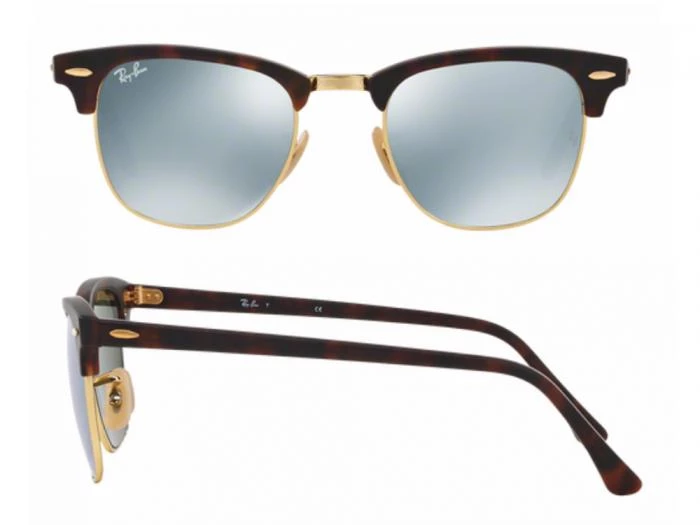 A style icon since their reintroduction in the 1980s, Ray-Ban Clubmaster sunglasses take their inspiration from design trends the even further back in the fifties.
Original makers of Clubmaster glasses were Bausch and Lomb who launched their Ray-Ban brownlines in the sixties, but it was in the mid-1980s that they brought out the Clubmaster to complement the famous Wayfarer and Aviators.
Ray-Ban Clubmasters rose to become the third top-selling models ever until fashion styles made one of those quirky sidesteps. Wearers were branded nerdy or worse as Clubmasters were seen to be old-fashioned and staid.
It was the surge in 1960s nostalgia in the mid-noughties that prompted another revival, and TV stars were soon sporting the browline look. Ray-Ban saw the Clubmaster shed its conservative image and become a sign of retro.
Today the Ray-Ban Clubmaster is as iconic as the Wayfarer and Aviator. Modern Clubmasters come in a range of colours and styles such as oversized, folding, wood and aluminium. They have also swelled from male to unisex and appeal to women as much as they do to men.
Clubmasters emphasise the wearer's natural browline with a dark or contrasting material along the top of the frame and temples and a thin metal frame to hold the bottom of the lens in place.
Worn by celebrities such as Kate Moss and Lily Allen, as well as movie stars including Bruce Willis, Matt Damon and Michael Douglas, Ray-Ban Clubmaster sunglasses have definitely established their place in the classic Ray-Ban line-up.
The Ray-Ban Clubmaster offers a lighter-weight option featuring a browline design that is still slightly reminiscent of the classic Wayfarer design. Gold coloured metal wire frames and bridge are complemented by acetate upper frames and arms.
Clubmasters are all about retro chic. What hasn't changed is the sophisticated air that has always set this design apart from the competition. These sunglasses are more than iconic; they have come to represent a whole era of fashion.
The latest Clubmaster sunglasses look great on those with a smaller square or oval-shaped face as the bolder upper frame adds balance but, honestly, they look flattering on virtually everybody.
Classic solid colour lens options include the typical Ray-Ban brown and green crystal lens types that have stood the test of time. Gradient lenses also come in a wide range of exciting and innovative colours as well as the more traditional grey and brown.
For extra clarity of vision choose a polarised lens that cuts down the glare and is easier on the eyes, or opt for the Ray-Ban Flash lenses with a mirror coating to add an extra edge in blue, silver or green.