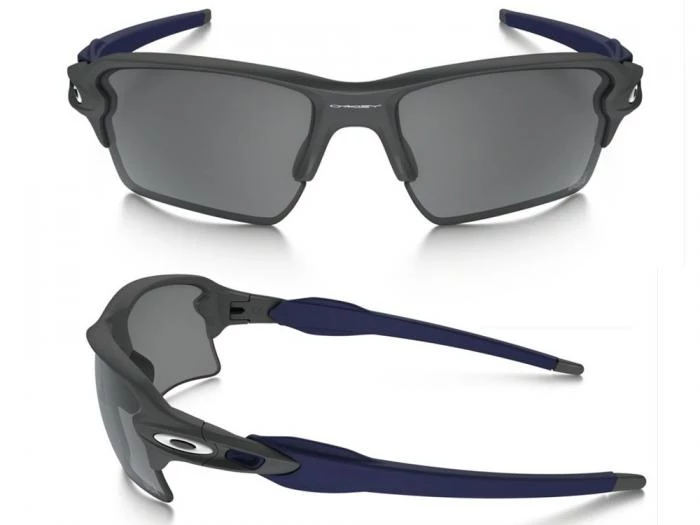 Oakley Flak 2.0 XL Glasses Overview
Oakley Flak 2.0 XL sunglasses are aimed primarily at the sports enthusiast and lovers of outdoor pursuits too.
These Flak 2.0 glasses are ultra-lightweight and suitable mainly for cyclists but are good for other sports including running, climbing and golf.
Oakley Flaks have two lenses, rather than the one-piece lens found on other cycling sunglasses like the Oakley Jawbreaker, and although the lenses are relatively small, a feature that may not appeal to everyone, experienced users report good eye coverage and visibility, particularly in changing light conditions.
The XL model has a standard size frame with good lens coverage and patented High Definition Optics that optimises vision over 100% of the lens to ensure clarity of image from any angle.
The curvature of 8.75 base frame extends the peripheral view and gives side protection against sun, wind while the semi-rimless frame ensures no disruption of the field for downward vision.
Along with the super light weight – these glasses come in even lighter then Jawbreakers – so comfort is assured especially on longer runs.
The thick bowed temples suggest a heavy fit but the Flak frame is both light and comfortable and the slightly bowed temples mean the glasses fit nicely over a running hat.
Sports enthusiasts hate sunglasses that slip and Flaks make the most of the Oakley three-point fit with rubber-like arms and nose pads that increase grip with perspiration.
Popular with road cyclists and other outdoor enthusiasts Oakley Flak 2.0 sunglasses make the most of traditional two lens design with an ultra-light semi-rim frame and tight wraparound curvature.