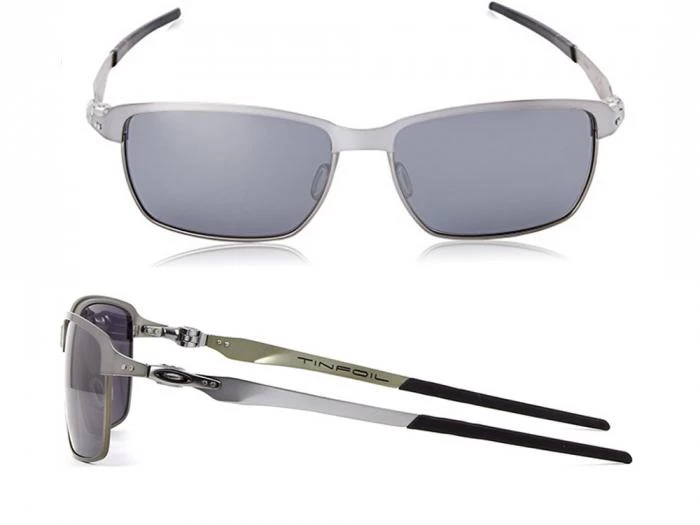 Oakley Tinfoil Glasses Overview
Oakley Tinfoil sunglasses suggest a cheap and flimsy frame, but nothing could be further from the truth.
Oakley Tinfoils are manufactured from high modulus stainless steel to ensure a robust but flexible frame with a super sleek finish.
More than that, Oakley has dispensed with the hinge screws. The integrated cam-action barrel hinge comes without any screws to get loose over time.
Like its stablemate the TinCan. TinFoil uses stainless steel--a first for Oakley--and carbon fibre.
It was to develop the revolutionary hinge that Oakley ditched its traditional wireframes made from a five metals alloy.
Traditional Oakley stems are sculpted in a rounded shape, but these have a streamlined flat style that proved a real challenge to Oakley engineers.
Processing carbon fibre is difficult, and the process has evolved at Oakley over several years.
It began with a limited-edition release as a CNC block followed by sculpted carbon fibre heated and moulded into a frame.
The carbon TinCan and TinFoil glasses have layers of carbon laid flat and then cut, bonded, and sealed and the finished Oakley Tinfoil product gives a new dimension to the half-rim style.
Of course, they come with Oakley's signature Three-Point Fit, air-filled silicone nose pads and Unobtanium ear socks but this time braced with ultra-modern materials and in a higher than average price bracket.
Very comfortable and lightweight on the face, the carbon adds a sleek sheen to what would look like very sophisticated sunglasses anyway.
The stainless steel is not only hypoallergenic but it also holds its shape, and they are a fine for sports such as sailing or fishing.
The semi-rimless frame gives unobstructed vision, and the lenses all have Oakley patented Plutonite UV protection and exceptional optical clarity.