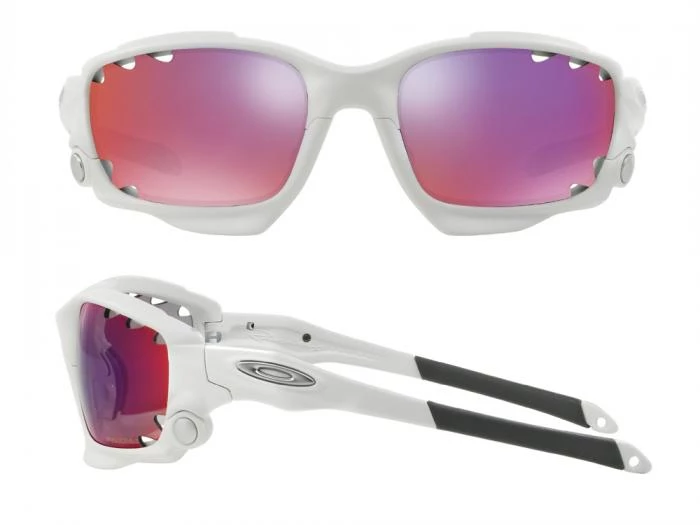 Oakley Racing jacket Glasses Overview
Oakley Racing Jacket sunglasses look similar to and are a replacement for the former popular Jawbone model aimed at cyclists and other sports enthusiasts.
An alternative to the Radar Path these have switching lenses, swappable Oakley icons and include a removable chin strap.
Oakley's new proprietary Switchlock system for changing lenses is a big improvement on previous systems which could result in lenses being bent or warped as they were snapped into place.
No danger of that here, thus ensuring a longer life for expensive lenses which can be exchanged by releasing clips to allow the lower half of the frame to swing open.
Simply swing open the frame, remove the lens and replace by lining the replacement lens in the groove and closing the click to lock it into the nosepiece
Extra hinge points suggest more can go wrong but Oakley's emphasis on robust high-quality components ensures no problems here if treated with reasonable care.
The chin strap fits neatly onto the ear pieces but cyclists are unlikely to use it as the famous Oakley Three-Point-Fit keeps the glasses firmly in place.
Runners or those using Racing Jackets for more active sports may find the chin strap useful. The strap can be pulled tight to keep the glasses safely on your face, or it can hang loosely around your neck when not needed.
Racing Jackets do away with nose bombs but rubber inserts moulded from patented Unobtainium, a rubber like material that increases grip as it gets wet, lie along the frame to both support the Switchlock clips and hold the frames in place.
Cyclists need unobstructed vision from every angle, particularly down towards the road and, for competitive racing, both left and right. Designed specifically for leaning forward in the cycling position they also have temples engineered to fit neatly beneath cycle helmets.
The relatively thick frame below the lens accommodates the Switchlock system but can detract from downward vision so it's a trade-off between half-rim eyewear such as Radar and having the ability to switch lenses to suit lighting conditions.
The Base 8.75 curvature of the Racing Jacket lens frame gives excellent peripheral vision while optics, in general, are the usual high Oakley standard with the crisp clarity of the company's patented High Definition Optics.
Vision is enhanced by the air venting system that prevents fogging and does a great job of protecting from wind and rain.
Super-lightweight, close fitting without being uncomfortable and with super definition optics, there are not many cyclists that would find fault with Oakley Racing Jackets.
One drawback is that the glasses don't fold away neatly, making them bulky to carry around when not in use.
Racing Jackets are a great choice of sunglasses for those participating in action sports, especially if they favour a more traditional sunglasses over the single piece lens.