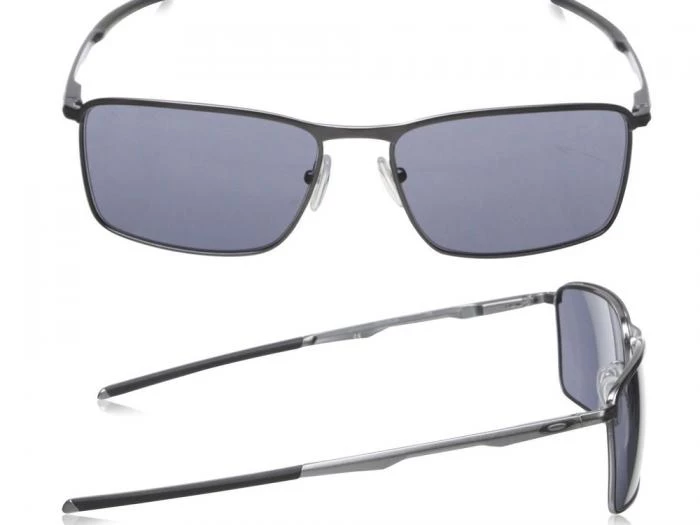 Oakley Conductor Glasses Overview
A sophisticated look that avoids the flashy style of much modern eyewear, Oakley Conductor sunglasses promise lightweight comfort in a refined package.
The thin, full-rimmed frame with its single bridge has clean, simple lines that extend through the integrated spring hinge temples to the full length of the slender arms.
Oakley Conductors have a scholarly look, with fine lines that come courtesy of the C5-alloy blend of five superheated metals. The frame material gives an inbuilt durable strength that belies the outward flimsy minimalist look. They may be thin but they are very hard to break.
The slim, stylish arms are 'notched' about a third of the way from the frames to lend some structural variety with the final third given to ear socks in a different colour to lend an elegant air.
Conductors sport traditional air-filled silicone nose pads and Oakley's own Unobtanium (also used for the ear socks), along with its proprietary three-point-fit architecture, help to keep the sunglasses firmly in place.
This despite the ultra lightweight material that hardly feels as though it exists at all. Wearers will be pushed to know they have sunglasses on at all. The Conductor 8 versions have a more pronounced 8.75 base curvature that gives a more wraparound look than the slightly flatter shape of Oakley's Conductor 6 sunglasses.
Both curvatures offer an excellent peripheral vision as well as side protection from the elements. They also hug the face and complement the grip of the three-point-fit. These glasses are not likely to slip even with vigorous movement.
Good eye protection is further ensured by the patented Plutonite lenses which boast 100% protection from all harmful UV sunlight. Oakley Conductors have a sleek, sophisticated look rarely found in modern-day designer glasses.
It certainly sets Conductor series apart from others in the Oakley stable with their stylish combination of fluid lines, metal strength and crafted elegance.