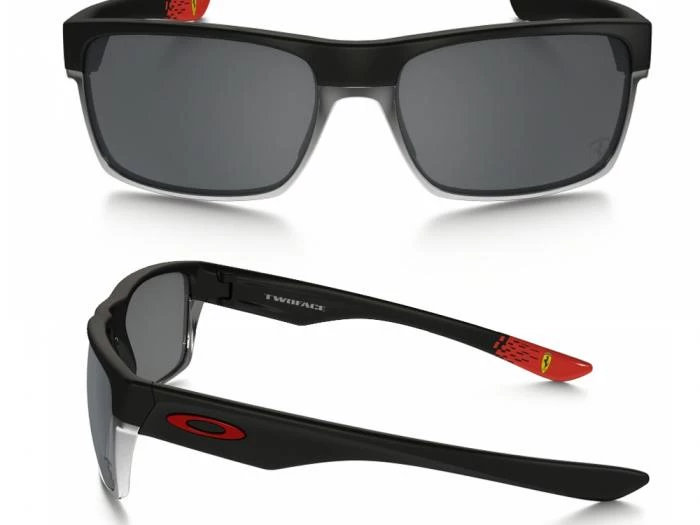 Oakley TwoFace Glasses Overview
Stylish Oakley TwoFace sunglasses are crafted from two layers of material. The upper half of the frame is a proprietary O-Matter blend of nylon infused plastic while the bottom half it feather-light aluminium.
The result is a unique look that marries style to comfort in an unconventional and innovative way.
Half aluminium may seem like just a gimmick, but wearers report that the feather-light feel of TwoFace makes them super-comfortable to wear and ideal for sports or leisure use.
Another plus is the sturdy, durable build quality that belies the lightweight feel. The double moulded materials make them super light and extra strong.
Its a unique design blend of aluminum lower orbital and an upper of nylon infused plastic,screwed and bonded together so well you fins it hard to believe it is not a single piece.
The winged stems and metal icons match the aluminium perfectly and add to the unique character of these sunglasses.
The three-point-fit system holds the frame in place without uncomfortable pressure points and no hooking around the ear.
The lack of nose pads is thought by some to be a failing, although the frames are so light it hardly seems to matter.
Oakley TwoFace sunglasses have Plutonite lenses for clear vision and 100% protection from eye-damaging UV light rays.
High Definition Optics counteracts light bending when it enters the lens and eliminating any distortion.
Lens options also include HDPolarised and Iridium to fight glare and improve vision even more.
Oakley TwoFace sunglasses look good on most faces, but the lower profile makes them best for medium sized faces.